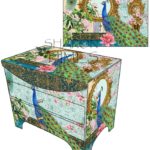 For the past 10 years art and designs by Sharon Himes have been licensed for use on products ranging from wall art and home decor to stationery, gifts and greeting cards. She has been featured in Art Buyer and Total Art Licensing magazines and represented at the Surtex Licensing show in NY.
Current trends show a return to organic textures and the peaceful innocence of natural subjects. Art and designs by Sharon Himes are ideal for home furnishing, gift ware, greeting card and social expression industries.
For every season there are Woodland Studio fine art images to inspire new products for customers. Striking a balance between botanical accuracy and abstract design, these nature inspired images appeal to environmentally conscious collectors and fit into both contemporary and traditional homes.Sharon Himes uses advanced Photoshop techniques to format her original paintings to product design requirements. Unique coordinated patterns, borders and textures are included.
Licensing opportunities available
To view a gallery of designs visit:
Sharon Himes is represented by
Monica Dietrich PM Design Group Inc.
pmdietrich@aol.com 6104173132
PO Box 7273 Nashua, NH 03060-7273