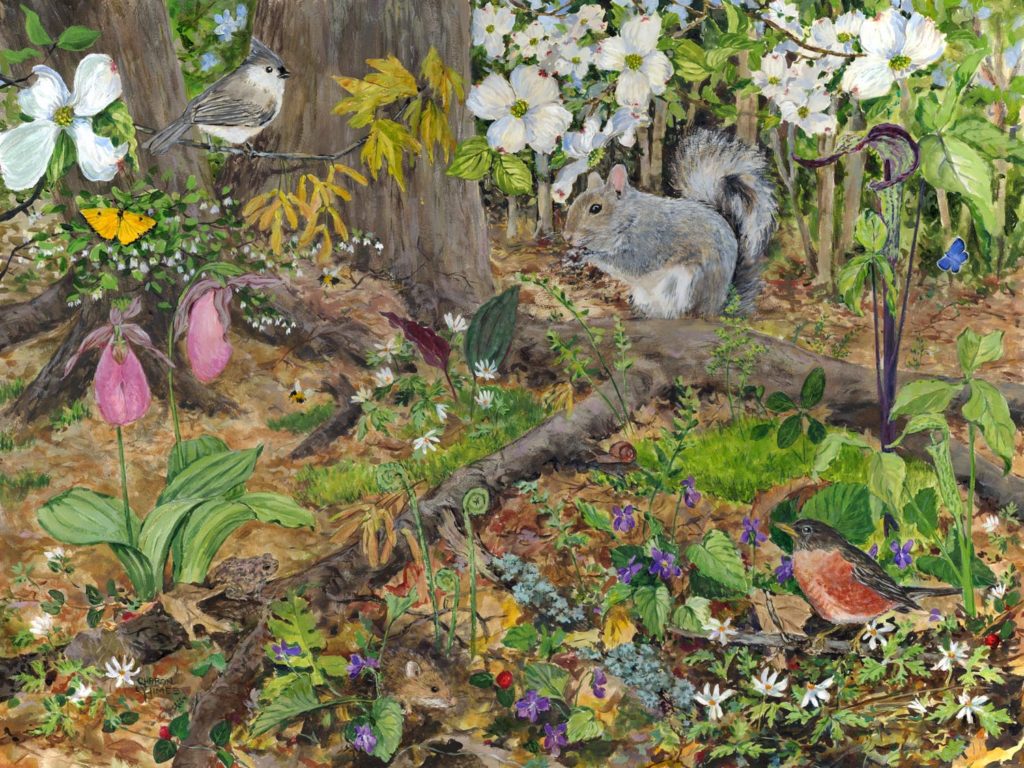 How many of a spring forest's treasures fit into one painting?
This busy painting depicts many of the wildflowers, small animals and birds that are found between mid April to mid May in an eastern forest.   Can you find the toad or the shy deermouse?
The original painting is 18×24″ painted with fluid acrylics on watermedia board. Email for information and availability.
Did you find all the woodland treasures in this painting?  See the diagram and list below to see all the subjects:
A. Tufted Titmouse
B. Maple seed 'wings'
C. Dogwood flowers
D. Gray Squirrel
E. Purple Jack-in-the-Pulpit
F. Eastern Blue Butterfly
G. White Jack-in-the-Pulpit
H. American Robin
I. Anemone Flowers
J. Lichen on a fallen branch
K. Wild Violets
L. Fern 'Fiddleheads'
M. Deer Mouse
N. American Toad
O. Partridge Berries
P. Lady Slipper Orchids
Q. Sulphur Butterfly
R. Wild Blueberry blossoms
S. Bees
T. Crane Fly orchid leaves
U. Snail
V. Teaberry Wintergreen