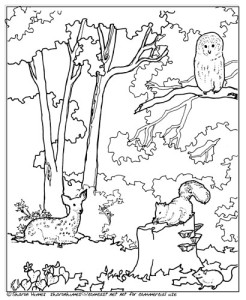 I have been writing about art, nature, history and other topics for many years. I keep nature journals and write notes and commentaries about my observations in the Pocomoke Forest on Maryland's Eastern Shore since moving to the area in the 1970s.
I have enjoyed pen and ink drawing since elementary school. In the 1990s I began creating pen and ink botanical drawings and illustrated maps for newspapers, magazine articles and books including John V. Dennis' 'Great Cypress Swamps' (LSU Press).
I wrote and illustrated a chapter in Patricia Seligman's book 'Watercolor Artists' Flower Handbook' published by Search Press.
Beginning in 1995 I  wrote articles on art history, art techniques and a variety of topics for what was one of the earliest Internet artist communities. There was not much practical information available to link to so I filled in the gaps and wrote about how to choose brushes, all about pigments, art as business and an extensive series on art and artists in history.  For a while I taught online classes and held chat discussion groups for artists before most of the community drifted to Facebook years later.  Today most of the original content is available online at the ArtCafe.Net.
As part of my research into the natural history of the Eastern Shore, I came across references to Henry Norwood, a 17th century visitor to the area. Finding Norwood's own account of his adventures in the area were more than informative and exciting, I spent two years delving into the background of the story and eventually brought this forgotten hero to modern readers with the book 'Cavalier's Adventure, The Story of Henry Norwood'.  While two print editions have sold out, the book is available as a Kindle eBook from Amazon.com . (A few signed copies of the first edition are still available from me).  (More about Henry Norwood's adventure and the book here)
I still write on a regular basis, usually about my explorations in the forest and commentaries on nature for my online Woodland Seasons blog at http://www.woodlandseasons.com