Whenever I am asked how I could part with a painting after spending so much time creating it, my answer is that I am always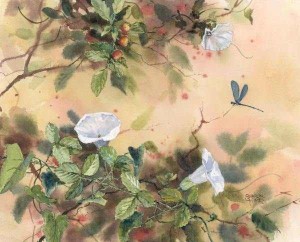 sorry to see them go but glad when they find a good home.
So, as sometimes happens, years later I get an email or letter from a collector who has bought a painting second hand and it is nice to know that the painting has gone on to a second life, sometimes at a great distance!
One painting, created more than 30 years ago in Maryland was sold recently through a gallery in Alaska. Another was found in a Goodwill Store in Virginia and several were purchased online.  Once in a while I see one of my works in a second-hand store locally.  No doubt some of the works were purchased at a bargain price and some seemed quite inflated.  In any case it delights me that a particular painting has been found by someone who was attracted to it and wanted to give it a home.
Over the past 30 years I have created over 2300 works, mostly watercolor, and the large majority of those are hanging in homes and offices near and far.  Thanks to those who have made the effort to let me know where the paintings end up.  Whenever I can I answer with what background information I have on the painting, the subjects or story behind it. There are very few paintings that I don't recall something about it's creation, even if I don't remember the title!